Women's Bible Study
We are currently working through a Bible Study published by the Women of the ELCA called: "Christian Citizenship 101," on Philippians.  We will meet on May 11th and May 25th at 12:30 pm in our Fellowship Hall.  We will then take a break from Bible Studies for the summer, picking up again in the Fall.
Please consider joining us for as many of these Bible Studies as you can. Discussion is best when we have a good turn-out of ladies.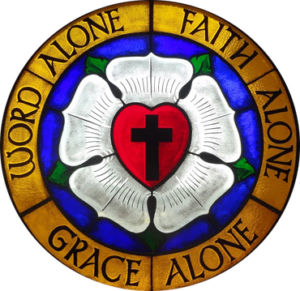 Adult Bible Study on Luther's Works with Potlucks
2017 is the 500th anniversary of the Reformation! The ELCA is encouraging all of its congregations to engage in Bible Studies focused on Luther's writings. One  Bible Study topic is "Luther's Small Catechism." A new study edition has been published which we are using for our Sunday Bible Studies with potlucks.  The group has decided to continue to meet over the summer, at least one Sunday per month.  The next study will be Sunday, June 4th.  Future dates to be announced.
Here is what Presiding Bishop Elizabeth Eaton has to say about this study: "the Small Catechism in the 21st Century is an invitation to all of us—young and old alike, whether we come to the Small Catechism for the first time or return to it after many years. It is an invitation to hear it anew, especially from the voices of those whose perspectives or experiences may be new to us. It is also an invitation to be renewed in our voices for our families, friends and neighbors."